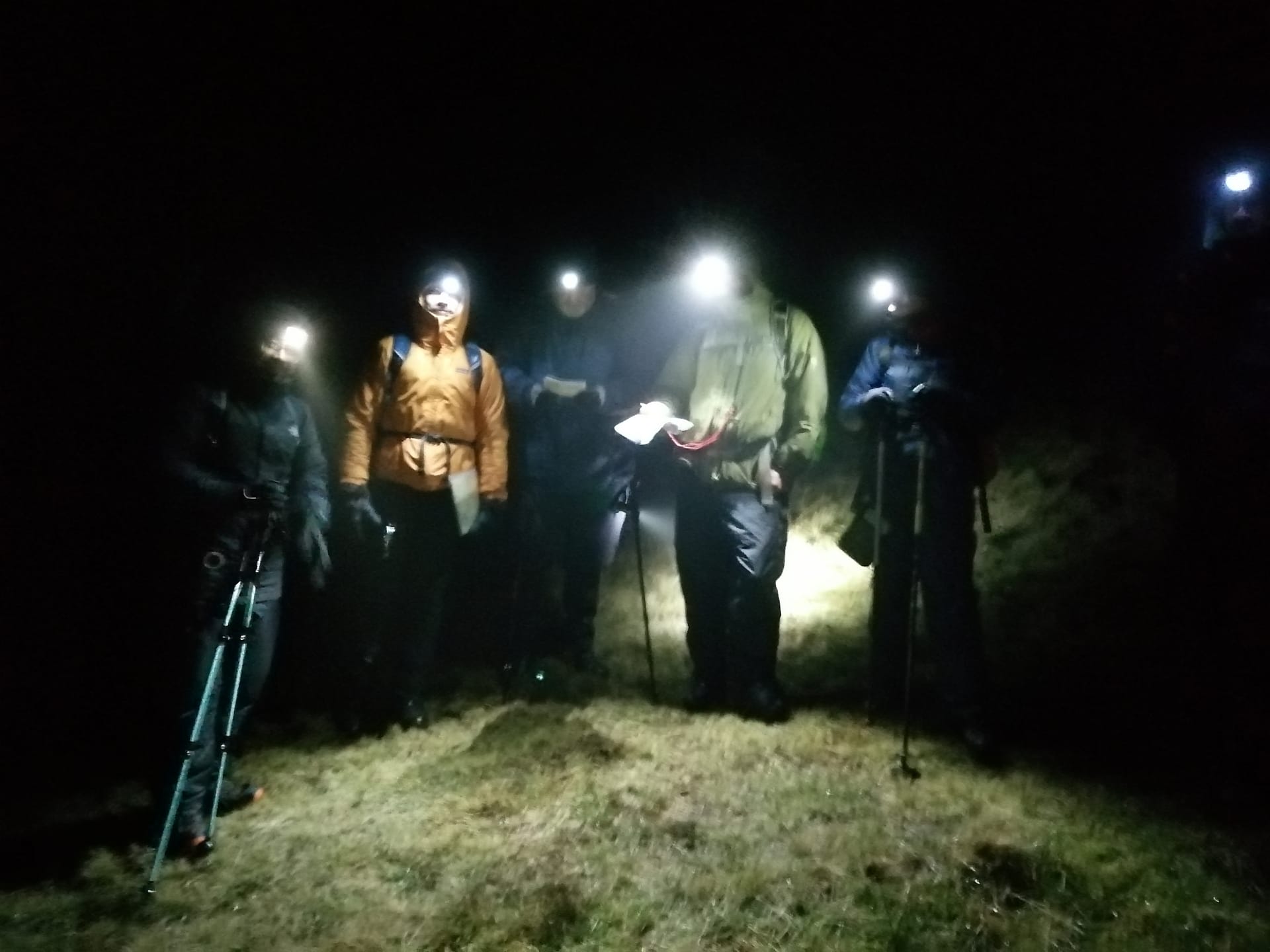 Guided Night Hike to Lugnaquilla
December 27 @ 2:30 pm

-

9:00 pm

|

€25,00 – €30,00
Guided Night Hike in the Wicklow Mountains.
Walking at night with a qualified mountain leader / instructor is a great way to step out of your comfort zone, to discover another side of the Wicklow mountains with its wildlife and biodiversity, where the spectacular views of the lowland surroundings can be enjoyed from a summit.
Meeting location: South Wicklow will start from Drumgoff recreation (pin location provided after booking)
From Drumgoff recreation, we will walk part of the Wicklow way then, onto a wooden board trail through a Magical woodland where Fairies live …the surroundings of it are actually breath taking so, let your imagination goes free !
Then, I will guide you up to Kelly's Lough which is a Corrie Lake as it was carved by glaciers during the last ice age some 22000 ago.
From Kelly's Lough, we will go up to Carrawaystick mountain at 700 m up to Lugnaquilla then, we will head back by passing by air crash 1991 and down to Drumgoff recreation.
During the hike, I'll explain about Ireland during the last Ice Ages, the origin of the Irish Peat, the first people which transformed the Irish landscape together with the origin of the boulders which were used to create field boundaries and used as building materials over the centuries to come.In addition to this you will learn about the flora and fauna, the origin of the landscape and historical events which took place in the area.
Our hikes are not only enjoyable but, educative too.
Duration: 6h00 included breaks
What gear do I need  !
Wear comfortable clothing like – leggings, tracksuit bottoms, breathable T-Shirt and fleece & an extra warm layer. Be ready for the rain and pack a rain jacket and rain trousers. A hat and gloves to keep you safe from the wind. Wear good sturdy walking shoes or hillwalking boots with woolly or synthetic socks. Have a backpack with water (minimum 1.5 litres, sandwiches and snacks, coffee, or tea. There is nothing more rewarding than a nice cup of coffee or tea drunk on top of the mountain. Don't forget to bring first aid kit with plaster and bandages, personal medicine, inhaler, epipen etc. 
In Addition: you can bring an OSI 56, Harvey or East West map of Lugnaquilla of the area and a compass if you have one. However, maps and compasses can be supplied by the instructor. Have your phone fully charged to.
If you have any additional questions please, don't hesitate to contact us.
Mountainadventures74; 0879691193
Share This Event With Your Friends!