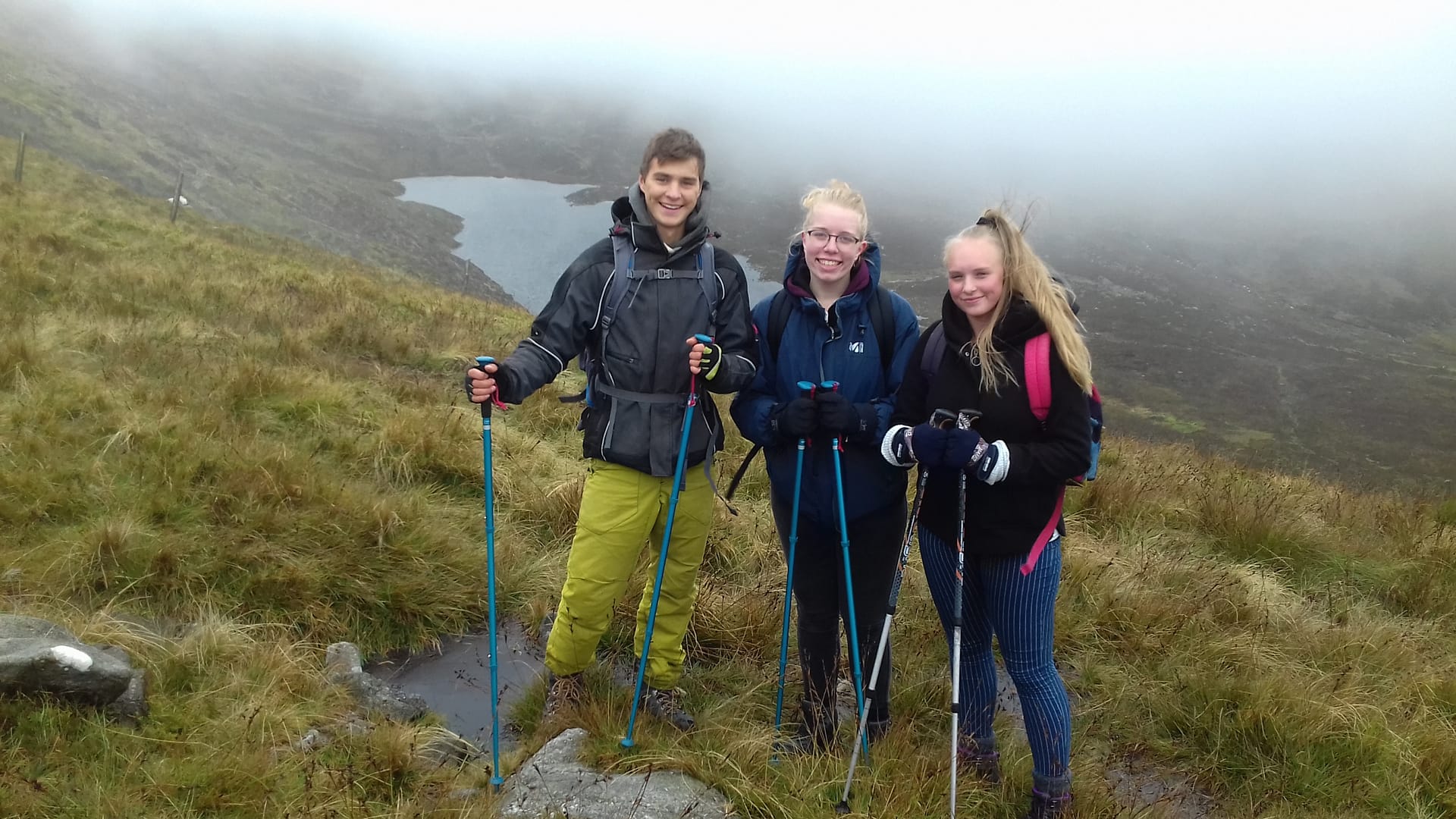 Mountain Skills 1 course in Myshall and Mount-Leinster area
5th February 2022 @ 9:00 am

-

6th February 2022 @ 5:00 pm

|

€100 – €120
Mountain Skills (1 and 2) is a nationally accredited course by the Mountain Training Board of Ireland and is delivered through 2 days tuition in an upland environment.
The aim of this course is to help you learn the skills you need to get out hiking; independently, safely, responsibly in the mountains of Ireland, the UK and beyond.
To navigate with confidence using a map, a compass and proper equipment in any type of weather condition during day or night time (night time training as being part of MS2).
At the end of this course you will have taken a big step forward in developing your own self-confidence and increase your enjoyment of hiking in the Irish mountains, in the UK or any where else in the world.
Registration with Mountaineering Ireland is essential in order to take part in this course and the fee is € 22 and it covers:
– Access to the full Mountain Skills Scheme (MS1 , MS2 and MS Assessment)
– A digital and / or paper Logbook and booklet setting out the scheme and allowing to track your progress
– A discounted Mountaineering Ireland membership fee of €30, if you wish to join at the time of registration. Any explanation and information will be given to you on training day.
Some hiking experience are essential before joining the scheme however, you don't need to be an expert.
The course covers;
Introduction and presentation of instructors
-Maps: features recognition,
– Hazards/ Weather,
– Route planning,
– Distance estimate and Direction, Timing/Pacing and the 5 D's)
– Introduction to compass, cardinal points, grid reference
– Magnetic bearing
– Route planning
– Night Navigation and Poor Weather Exercises
– Emergency Procedures/ Mountain Hypothermia
– Hiking on Steep/ Broken ground and Macro Navigation
The cost for the 2 days training is €120 (discount available for small groups of 3 plus and children from age 12) which includes: indoor and outdoor tuition, printed or digital course notes, a logbook, tea or coffee breaks and snacks plus a FREE hiking practice.
Private and personalised courses for individuals and small groups are also available.
Accommodation can be provided for.
About the course provider.
Emmanuel is a fully qualified Mountain Leader for the island of Ireland and the UK. Emmanuel has been actively hiking from the age of 9 , starting in the French Alps where his family is from and over the years, has been hiking in the Alps, (France, Germany, Austria, Italy) in the Pyrenees in Spain, Norway Sweden, the Czech Republic, in Canada and The US. Emmanuel likes to hike by any type of weather conditions and especially at night. However, he doesn't take any risk and would not hike in stormy conditions as safety comes first. So, hiking is pretty much in his blood.
For more information about this course or to book a place.
Please feel free to contact me @: 00353 879691193
Email: aeaccom@gmail.com or info@mountainadventures74.com
Or check our website : www.mountainadventures74.com for any Updates.
Regarding to Covid-19 and our policies.
As long as our counties are not placed into a lock down, indoor training for MS1 and MS2 will take place as usual in a community Hall with bigger training space and fully equipped kitchen in comparison to pubs or hotels.
During indoor sessions; social distancing is essential and same for outdoor however, with less restrictions.
For more information, please contact us at: aeaccom@gmail.com or at
mountainadventures@gmail.com
Share This Event With Your Friends!