Mountain Skills 1 and 2
Ever wanted to learn the skills you need to become a competent navigator in the mountains of Ireland and beyond by day, by night or bad weather?
As mountain leaders and course providers for Mountaineering Ireland and the UK, we run Mountain Skills 1 and 2 which is a nationally accredited course.
Hiking along the Irish mountains can be a thrilling and rewarding experience, offering breathtaking views and a chance to stretch out your legs. However, poor visibility can turn this enjoyable activity into a dangerous one. Poor visibility can arise due to various weather conditions such as fog, heavy rain, snowstorms, or low-lying clouds.
The risks associated with poor visibility include an increased likelihood of getting lost, accidents, and falls due to obscured hazards on the trail. Additionally, hikers may face exposure to changing weather conditions without adequate preparation, leading to potential health issues. Poor visibility and weather conditions can also hinder rescue operations and limit communication options in case of emergencies.
With Mountain Adventures 74 we provide Mountain Skills courses which will teach you the necessary skills to avoid trouble while hiking.
The aim of Mountain Skills 1 and 2 which run over 2 weekends or 4 days, is to help you learn the skills you need to get out hiking; independently, safely, responsibly in the mountains of Ireland, the UK and beyond.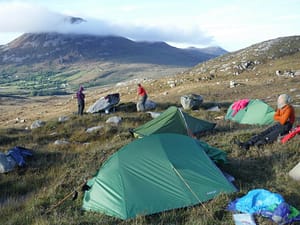 The course is split between an indoor session of 4 hours and 4 hours outdoor practice which includes a night navigation as part of Mountain Skills 2.
Mountain 1 and 2 cover :
Mountain Skills Scheme introduction
Personal Equipment
Reading and Understanding Maps
Features recognition and depiction of relief
Contour interpretation
Grid reference and self location
Map's Scale
Introduction to compass
Timing and Pacing
Mountain Environment and the Leave No trace Program
Route Planning
Route Card
Mountain Hazards
Emergency
Steep ground
compass bearing
Private and personalized courses for individuals and small groups are also available.
Some hiking experience is essential before joining the scheme however, you don't need to be an expert.
You will need to be registered with Mountaineering Ireland is the cost of registration for the the course is :@22
The  Mountain Skills course is  € 120 which includes: Tea, coffee, scones or else, course notes, a free hiking day practice, a log book and a certificate.
Click here to view more training courses and events.
Follow us on Facebook and Instagram to stay updated on our next Mountain Skills 1 and 2 courses.